January 2019
| Mon | Tue | Wed | Thu | Fri | Sat | Sun |
| --- | --- | --- | --- | --- | --- | --- |
| | 1 | 2 | 3 | 4 | 5 | 6 |
| 7 | 8 | 9 | 10 | 11 | 12 | 13 |
| 14 | 15 | 16 | 17 | 18 | 19 | 20 |
| 21 | 22 | 23 | 24 | 25 | 26 | 27 |
| 28 | 29 | 30 | 31 | | | |
Calendar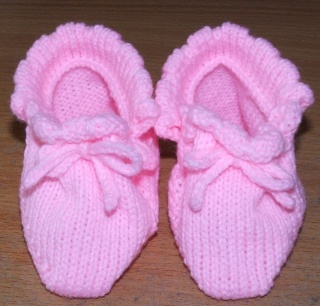 BABY MOCCASINS
2 ply Ten. 3-4 3 ply Ten. 5-6
Cast on 31 sts by hand.
R1 - 4 Put 2nd & every following 4th needle into Hold and knit
R 5 All needles in working position (W.P.) and knit
R 6 - 7 Put 13 needles opp. Carriage to Hold and knit (wrap yarn)
R 8 - 11 Bring 6 needles opp carr back to W.P. on next 2 rows
Bring 7 needles opp carr back to W.P. on next 2 rows
R12 - 14 Make eyelets by transferring 2 nd & every following 4th st. to
adjacent needle in W.P. Knit 2 rows
R15 - 38 Put 1 needle on same side as carr to Hold at beg. Of each row. (Do
not wrap yarn) 7 sts in W.P.
R39 - 62 Wrap yarn at start of this row only. Take back to W.P 1 st. opp carr
at beg of each row
R63 - 82 As rows 15 - 38 , but 11 sts remain in W.P
R83 - 102 As rows 39 - 62
R103-110 Knit next row with coloured thread as well as main yarn, to mark hem
R111-114 Put every 4th needle to hold and knit
R115-122 Put all needles in W.P. and knit, decreasing 1 st. at beg of row 116,
117,118,119. Knit to row 121. Pick up hem from marked row ( 2 sts
on each needle). Increase Tension at least 4 numbers higher and knit
across. Latch off.
Make cords by picking up 2 sts underneath cuff. Set machine to knit 1 row and slip the next row, knit for length required. Cast off and repeat for other side. Thread cords through eyelet holes and tie.
Admin




Number of posts

: 16


Age

: 43


Registration date :

2008-09-18




---
Permissions in this forum:
You
cannot
reply to topics in this forum